Hydraulic Shearing Machine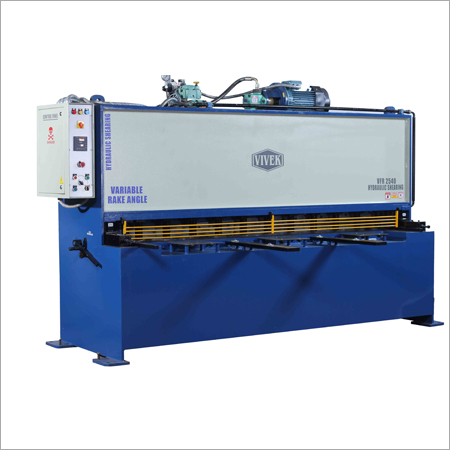 Hydraulic Shearing Machine
Price And Quantity
Product Specifications
Automatic

110-440 Volt (v)
Electric Volt (v)

Blue And Grey
Product Description
As an experienced manufacturer and exporter of Gujarat, we are offering technically advanced machinery like Hydraulic Shearing Machine. This Hydraulic Shearing Machine is designed with heavy duty steel plate made frame, hydraulic hold down system with anti-slipping properties, single segment knives with four edged blades, mechanical back gauge for precise cutting purpose, finger guard system for the safety of its operator, easy to operate manual lubrication system, gear and wheel guard, stroke counter, T-slot front supporters and front scale gauge.
Frame : The Frame is rigidly constructed from Solid steel plates with safeguards, It's interlocked design provides support to the bed directly on the frame to avoid weak sections at load supports.
Hold Down System : Hydraulic Hold Down system are provided to hold the sheet securely to avoid slipping and bowing allowing a clear and accurate cut.
Knives : Each machine is provided with high quality single segment, (HcHcr) knives for enhanced tool life. The knive blades are four edged.
Mechanical Back Gauge : Mechanical Back Gauge is operated by Rack Pinion arrangement for easy and accurate cutting operations. The Front gauge moves on a "T" slot provided on the table.
Finger Guard : To avoid accident, Finger Guard is fitted in front of Hold down system for operator's protection without obstructing his view.
Lubrication : All moving parts are provided lubrication by hand operated pump for smooth operation.
Standard Accessories : Gear & Wheel Guard, Hand operated back Gauge, Manual Lubrication pump, Stroke counter, T-Slot front supporters, front Scale gauge.
Optional Accessories : Automatic Lubrication system, Electric Motor, Starter, V-Belt, Ball Roller or ball transfer, Foundation Bolts, Extension squaring arm etc.
Note : Electrical equipments are not under warranty.
Technical Specification :

Model

Cutting
Length

Sheet Thickness

Rack Angle

Rack
Angle
Range

Stroke/Min.
At Min. & Max. Rack
Angle

No. Of
Hold down

Holding Force
Kgs.

Power
H.P.

Front
Gauge

Rear
Gauge

Blade
L X W X T

Holddown
System

M.S.
Nominal
Rack
Angle

M.S.
Max.
Rack
Angle

S.S.
Nominal
Rack
Angle

S.S. Max.
Rack
Angle

VVR-1

1525X4MM

4

6

2

3

137

0.5-3

30-15

8

4500

7.5/5.6

600

750

1525X75X18

Hydraulic

VVR-2

2030X4MM

4

6

2

3

137

0.5-3

28-13

11

6200

7.5/5.6

600

750

2030X75X18

Hydraulic

VVR-3

2540X4MM

4

6

2

3

137

0.5-3

30-8

13

8000

7.5/5.6

600

750

2540X75X18

Hydraulic

VVR-4

3125X4MM

4

6

2

3

137

0.5-3

28-8

15

10000

10/7.7

600

750

3125X75X18

Hydraulic

VVR-5

4000X4MM

4

6

2

3

137

0.5-3

22-8

20

12000

10/7.7

600

750

4000X75X18

Hydraulic

VVR-6

1525X6MM

6

8

3

4

15

0.5-3

24-8

8

6500

10/7.7

600

750

1525X75X18

Hydraulic

VVR-7

2030X6MM

6

8

3

4

15

0.5-3

22-7

11

6500

10/7.7

600

750

2030X75X18

Hydraulic

VVR-8

2540X6MM

6

8

3

4

15

0.5-3

28-8

13

8500

15/11.2

600

750

2540X75X18

Hydraulic

VVR-9

3125X6MM

6

8

3

4

15

0.5-3

24-6

15

10800

15/11.2

600

750

3125X75X18

Hydraulic

VVR-10

4000X6MM

6

8

3

4

15

0.5-3

24-6

20

13600

20/15

600

750

4000X75X18

Hydraulic

VVR-11

1525X8MM

8

10

4

5

2

0.5-3

20-10

8

10500

15/11.2

600

750

1525X90X20

Hydraulic

VVR-12

2030X8MM

8

10

4

5

2

0.5-3

18-8

11

12000

15/11.2

600

750

2030X90X20

Hydraulic

VVR-13

2540X8MM

8

10

4

5

2

0.5-3

24-8

13

16500

20/15

600

750

2540X90X20

Hydraulic

VVR-14

3125X8MM

8

10

4

5

2

0.5-3

20-6

15

18500

20/15

600

750

3125X90X20

Hydraulic

VVR-15

4000X8MM

8

10

4

5

2

0.5-3

20-8

20

23000

30/22.5

600

750

4000X90X20

Hydraulic

VVR-16

1525X10MM

10

13

5

6

2

0.5-3

20-10

8

10500

15/11.2

600

750

1525X90X20

Hydraulic

VVR-17

2030X10MM

10

13

5

6

2

0.5-3

18-8

11

13000

15/11.2

600

750

2030X90X20

Hydraulic

VVR-18

2540X10MM

10

13

5

6

2

0.5-3

24-8

13

17500

20/15

600

750

2540X90X20

Hydraulic

VVR-19

3125X10MM

10

13

5

6

2

0.5-3

20-8

15

20000

20/15

600

750

3125X90X20

Hydraulic

VVR-20

4000X10MM

10

13

5

6

2

0.5-3

18-6

20

25000

30/22.5

600

750

4000X90X20

Hydraulic

VVR-21

2030X13MM

13

16

6

8

2

1-3

13-5

11

16500

20/15

600

750

2030X100X25

Hydraulic

VVR-22

2540X13MM

13

16

6

8

2

1-3

15-10

13

32000

25/18.7

600

750

2540X100X25

Hydraulic

VVR-23

3125X13MM

13

16

6

8

2

1-3

12-6

16

37000

25/18.7

600

750

3125X100X25

Hydraulic

VVR-24

2030X16MM

16

18

8

10

2

1-3

13-7

11

22000

25/18.7

600

750

2030X100X25

Hydraulic

VVR-25

2540X16MM

16

18

8

10

2

1-3

15-8

13

40000

30/22.5

600

750

2540X100X25

Hydraulic

VVR-26

3125X16MM

16

18

8

10

2

1-3

12-6

16

43500

30/22.5

600

750

3125X100X25

Hydraulic
Note :
All Dimensions are in m.m.
Specifications are subject to change
Power Supply : 400 / 440 V., 3 Phase, 50 Hz
Trade Information
Telegraphic Transfer (T/T), Cheque

1 Per Week
1 Days

Africa, Middle East, Western Europe, Eastern Europe, South America, North America, Central America, Australia, Asia