Press Brake Machine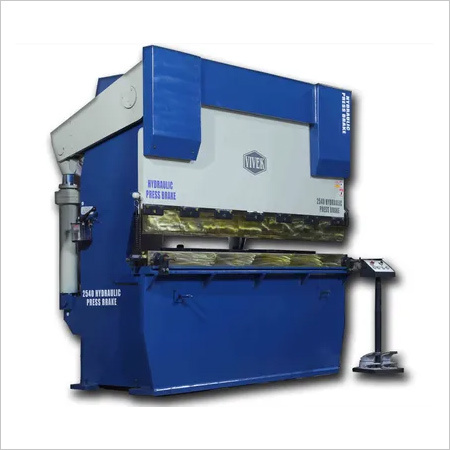 Press Brake Machine
Price And Quantity
Product Specifications
Blue And Grey

For Cutting And Bending Use
10-20 Millimeter (mm)

Up To 10 Feet Foot (ft)
Product Description
We would like to introduce ourselves as a prestigious manufacturer and exporter of wide assortment of shearing machinery like Press Brake Machine. Available in 22 different models with different bending capacities, throat depth levels, RAM speed, motor power, dimension and table height, this equipment is designed with energy efficient electric motor, fine stroke adjustment rod, advanced limit switch, manually operated lubrication system, standard -IV block and manual back gauge. The drive system of this Press Brake Machine consists of alloy steel made two separate gear drives for transmission of power to its RAM for uniform load distribution purpose.
Standard Accessories : Electric Motor, Control Panel with Selection of Inch - Once - Auto mode of operation, Foot Switch, Fine Stroke adjustment rod with limit Switches, Manual Back Gauge, Standard V - Block and Punch, Manual Lubrication.
Optional Accessories : Goose Neck Punch and other tooling. NC operated Back Gauge.
Drive System : Two individual gear drives transmit the power to the Ram generating uniform load distribution through out the length. Gears & Pinions are made out of high quality alloy steel. The gear system provides appropriate speed to balance the transmission of torque on the eccentrics.
Note : Please note that Electrical equipments are not under warranty.
Technical Specification :

Model

Tonnage
Ton. Cap.

Bending Capacity L. X Thk.

Clear Passing

Throat Depth

Ram
Str.

Ram Speed Mm/Sec

Motor
H.P. 1500 R.P.M.

Table
Height

Overall Dim.

Open
Height

Closed
Height

Approach

Pressing

Rtn.

L.

W.

H.

VHPB-1

25

1525X2

1000

225

100

40

10

40

3

800

1800

825

1950

275

200

VHPB-2

25

2000X1.6

1700

225

100

30

7

30

3

800

2300

950

1950

275

200

VHPB-3

40

2500X2

2000

225

100

50

6

50

5

800

2800

1000

1950

275

200

VHPB-4

65

2000X4

1700

275

125

36

5

36

5

800

2300

1100

2000

325

200

VHPB-5

80

2500X4

2000

275

125

28

5

30

5

800

2800

1100

2000

325

200

VHPB-6

100

3000X4

2500

275

125

38

5

38

10

800

3300

1200

2200

325

200

-

-

2500X5

2000

275

125

38

5

38

10

800

2800

1150

2200

325

200

-

-

2000X6

1700

285

150

38

5

38

10

800

2300

1100

2150

350

200

VHPB-7

125

2500X6

2000

285

150

30

5

60

15

800

2850

1200

2200

350

200

-

-

2000X8

1700

300

150

30

5

60

15

800

2300

1200

2200

350

200

VHPB-8

160

3000X6

2500

285

150

30

5

60

20

800

3300

1350

2400

350

200

-

-

2500X8

2000

300

150

30

5

60

20

800

2800

1350

2400

350

200

-

-

2000X10

1700

300

150

30

5

60

20

800

2300

1350

2400

350

200

VHPB-9

200

3000X8

2500

300

150

20

5

40

20

800

3400

1450

2500

350

200

-

-

2500X10

2000

300

150

20

5

50

20

800

2800

1450

2500

350

200

-

-

2000X12

1700

300

150

20

5

50

20

800

2300

1450

2500

350

200

VHPB-10

250

2000X16

1700

300

200

20

5

40

25

800

2300

1600

2600

400

200

-

-

2500X12

2000

300

150

20

5

40

25

800

2800

1600

2600

350

200

-

-

3000X10

2500

300

150

19

5

30

25

800

3300

1600

2600

350

200

VHPB-11

300

2000X20

1700

300

200

19

5

30

25

850

2400

1800

2700

400

200

-

-

2500X16

2000

300

200

19

5

30

25

800

2900

1800

2700

405

205

-

-

3000X13

2500

300

150

19

5

30

25

800

3400

1800

2700

400

200
Note :
All Dimensions are in m.m.
Specifications are subject to change
Power Supply : 400 / 440 V., 3 Phase, 50 Hz
Trade Information
Telegraphic Transfer (T/T), Cheque

1 Per Week
1 Days

Africa, Middle East, Western Europe, Eastern Europe, South America, North America, Central America, Australia, Asia